---
Both Bushfire Control's Fireproof Safety Shutters are equipped to withstand the harshest environments for extended periods. Similarities between the two products are numerous. The primary differentiating factor between the two Bushfire Control product categories is the mechanism which drives the shutters to remain open or closed.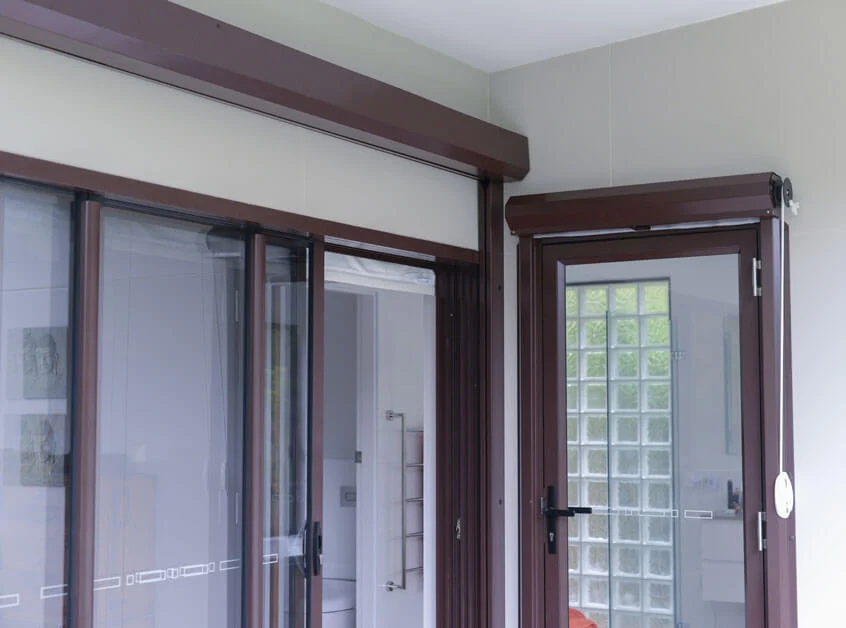 ---
Both products are indistinguishable in their BAL-FZ rating. This rating meaning: they are capable of enduring direct flame contact from fire front and the largest radiant heat exposures experienced in the Australian bush. Secondly, they are both Australian made and manufactured. This green and gold sticker of approval ensures the highest-quality manufacturing processes and use of extremely durable materials. Third, varieties of safety shutters supplied and installed by Bushfire Control are homogeneously manufactured by Warrior Bushfire Shutters. Lastly, the two products are easily retrofitted over windows they are sized to.
Where the two products are unique first and foremost is their operating mechanism. Motorised Bushfire Control shutters operate via a motorised mechanism. They can similarly be deployed using an indoor wall-mounted switch or a gravity failsafe system. In this second case, the shutter will deploy during a brown out or black out without the need for a battery or backup generator.
Manual Bushfire Shutters operate, in contrast, via a roller and cord. When information is received regarding a nearby bushfire, shutters can be deployed in a quick fashion to ensure safety of the house and its occupants.
Second, yet worthy of no less note, is the acclimation of each product to different fire safety codes. The motorised shutters cater to requirements of AS3959:2018 and the manual shutters cater to 1905.2.
Furthermore, whilst both bushfire shutter products are manufactured by a sole enterprise, they are uniquely available within a set limit of sizes. Motorised bushfire shutters come in the biggest sizes imaginable; enough to cover a whole 8 metre wall of a house. They are supplied in 8000mm W x 3000mm H or 6000mm W x 4000mm H variants. In contrast, manual shutters are singularly available in 2750mm W x 2500mm H panels.
Contact Bushfire Control Today
With our innovative designs, efficient product supply and high-quality installations, you wouldn't want to buy fireproof shutters from another supplier. The Bushfire Control team have over two decades of experience in the building industry which is just one of the reasons why our customers keep coming back to us when they're building in bushfire-prone areas. With our experience and certifications, we guarantee you that our bushfire shutter products will ensure the safety of you and your family for as long as you live in your house.
Our full lifecycle service ensures your house is fully protected, so reach out via our Contact Form to find out more!