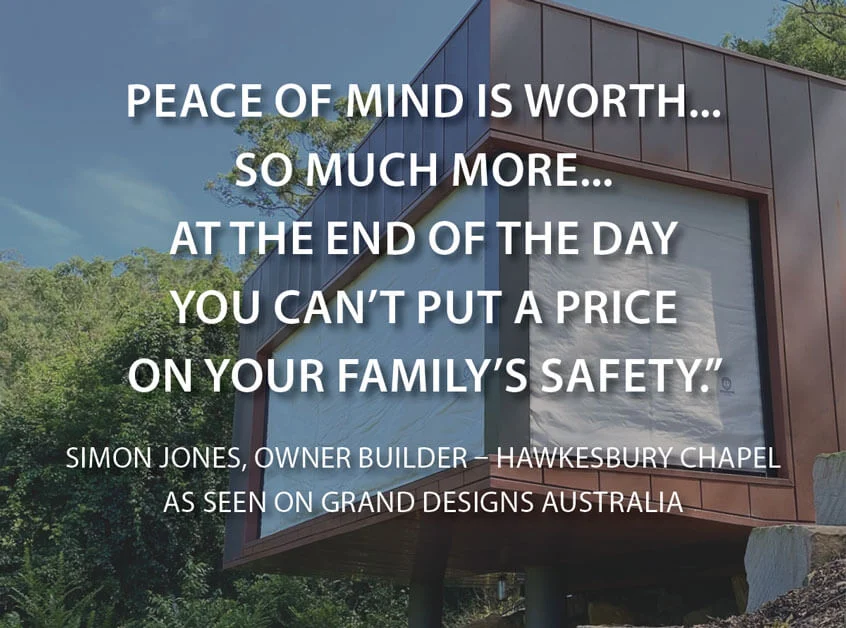 Bushfire Control supplies a wide range of fire shutters, fire windows, doors and screens that are compliant with BAL (Bushfire Attack Level) ratings from BAL-Low to BAL-FZ. Our products are specially designed to withstand fire and are purpose-built for areas that hold a high risk of combustion during bushfire season. Our products are compliant with building codes too, which makes them a great addition to your house: they will last a long time. But why buy Bushfire Control products over another brand? Our products are certified, tested and built to last, which gives you superior peace of mind when you are building or renovating.
Bushfire Control Certification
Bushfire Control is a certified Gold Member of the Fire Protection Association Australia. We are also a Housing Industry Association member and hold a Master Builder's certification. Our products are certified by the Advanced Manufacturing Growth Centre, which gives an indication of our product's innovative features. Our memberships and certifications have been gathered over twenty two years, as we have perfected our designs, supply chain and installation and maintenance practices within the building industry.
Tested Fire Resistant Products
Bushfire Control fire resistant products are tested by fully qualified fire engineers in addition to trained and experienced personnel. Our products do not just meet building codes, their design goes above and beyond what is required of products used to reinforce housing structures in bushfire-prone areas. Bushfire control fire shutters, fire windows, doors and screens exceed minimum fire and smoke testing requirements and will delay the spread of fire in an emergency situation, giving you that extra time you need to proceed to safety.
Fire Resistant Products Built To Last
Bushfire Control's 'Full Life Cycle Service' incorporates best practices in design, supply, installation and maintenance to guarantee that the lifespan of your house is as long as possible. Bushfire season is not a one-off event, so to protect you and your house all year round, we offer a full range of maintenance services. We supply a complete range of spare parts in the event something becomes defective. We can perform maintenance work on all Bushfire Control products as well as your existing fire doors, fire shutters and smoke vent installations.
Contact Bushfire Control Today
With our innovative designs, efficient product supply and high quality installations, you wouldn't want to buy from another supplier. The Bushfire Control team have over two decades of experience in the building industry which is just one of the reasons why our customers keep coming back to us when they're building in bushfire-prone areas. With our experience and certifications, we guarantee you that our products will ensure the safety of you and your family for as long as you live in your house.
Whether your next project requires bushfire protection systems such as shutters, or glazing, Bushfire Control partners with Australian building professionals from design and supply, to installation and maintenance to offer a complete Bushfire Attack Level (BAL) product range and our full life cycle service. We can give you a level of confidence that your home curtails to BAL FZ compliance that no other company can provide.
Reach out via our Contact Form to find out more!